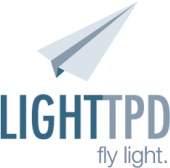 The first thing to do it get lighttpd installed with php and mysql working smoothly. Rather than reiterating the same content here is a convenient post:
http://www.howtoforge.com/lighttpd_mysql_php_debian_etch
Interesting options and various configuration for lighttpd can be found here:
http://redmine.lighttpd.net/projects/lighttpd/wiki/Docs:ConfigurationOptions
One insteresting, built in, option is throttling. Use connection.kbytes-per-second and you can effectivly limit users to particular data transmission rates. There is also a compression module, and a caching module. Much like apache these modules can be installed with apt-get. Issue:
sudo apt-cache search lighttpd
This will list various packages that can be installed. I know the apache modules are packaged as libapache2-mod-*.
With built in round robin and proxy modules this is an interesting package to investigate using.